Let's be real – who doesn't want toned and sleek arms? Unfortunately, loose skin or excess weight can lead to droopy upper arms, often referred to as "bat wings." Thankfully, modern cosmetic surgeries have an answer: arm lift surgery or brachioplasty. This procedure eliminates extra skin and tightens the underlying tissue. But what's the deal with arm lift recovery? Can you wave goodbye to recovery in a week, or does it take longer? Dive in as we break down everything you need to know about recovery from an arm lift.
Why Consider an Arm Lift?
In today's world, where popular procedures like liposuction and facelifts grab headlines, why is the arm lift, or brachioplasty, garnering so much attention? The answer is simple: for many, it offers the perfect solution to a very specific concern. Significant weight loss, aging, or genetics can sometimes lead to saggy upper arm skin, causing discomfort or self-consciousness. This excess skin can be unresponsive to exercise, leaving individuals frustrated. An arm lift procedure addresses this, meticulously removing the extra skin and fat deposits between the underarm and the elbow. The result? A more sculpted, toned appearance in the arms that many desire.
Brachioplasty Recovery Timeline
Recovery from an arm lift, like any plastic surgery procedure, is a journey. It requires patience, care, and adherence to your surgeon's instructions. However, understanding the general arm lift recovery time can help set realistic expectations and assist in planning the post-surgery phase. So, let's embark on this weekly timeline!
Week 1: The Initial Phase
The first week after your arm lift surgery can feel like a roller-coaster, both physically and emotionally.
Swelling and Bruising: It's common to experience swelling and some bruising in the operated area. Keeping your arms in an elevated position can help reduce this swelling.
Discomfort and Pain: Some pain is expected, but don't fret! Surgeons often prescribe pain medication to help manage it. Remember, taking your medication as directed is crucial.
Limitations in Movement: Your range of motion will be limited. So, tasks like dressing up or combing your hair can be challenging. Consider getting some help during this period.
Drains and Dressings: Drainage tubes may be placed to remove excess fluid or blood, and you'll have dressings over your incisions. Follow your surgeon's instructions about their care.
Weeks 2-3: Gaining Momentum
You'll begin to feel a bit more like yourself during this period.
Reduced Swelling: The swelling from the surgery starts to subside. The true shape of your arms will begin to emerge.
Increasing Mobility: Your range of motion should improve, but it's essential to avoid any strenuous activity or lifting heavy objects.
Scar Care: The incisions will start healing, and this is a good time to discuss scar care with your surgeon. Proper care can ensure they fade over time.
Diet and Hydration: Focus on a healthy diet and ensure you're well-hydrated to aid the healing process.
Weeks 4-6: Nearing Normalcy
By this phase, many patients begin to feel "normal" again.
Engage in Light Activities: While you should still avoid rigorous exercise, light activities like walking can be reintroduced.
Follow-up Appointments: Check-ins with your surgeon are essential. They can assess the healing process and advise on any concerns.
Compression Garment: You might still need to wear this garment to ensure optimal shaping of the arms.
Beyond Week 6: Long-Term Recovery
The majority of the healing takes place within the first six weeks, but arm lift recovery continues.
Resuming Regular Activities: Most patients can get back to their normal activities, including exercise, after six weeks. However, always consult with your surgeon before jumping back into your routine.
Scar Maturation: Arm lift scars will continue to mature and fade over several months. Continue scar treatments as advised.
Enjoying the Results: With the excess skin gone and the recovery process nearing its end, you can start truly enjoying the results of your arm lift procedure.
Remember, while this timeline provides a general overview, individual experiences may vary. It's always best to listen to your body and keep open communication with your surgeon.
Tips for a Smooth Arm Lift Recovery
Post-Surgery Pain and Measures to Handle It
When waking up after this outpatient procedure, the first sensation you might perceive is discomfort under your arms. Pain is a normal part of any surgery, and arm lift surgery is no different. Most surgeons will prescribe pain medication to mitigate this. The level of pain generally drops significantly a few days after surgery.
However, it is always essential to communicate with your plastic surgeon if the pain feels intense or becomes persistent. Their understanding of your medical history and your surgery will guide them in adjusting pain management.
Managing Swelling and Fluid Drains
After an arm lift surgery, it is normal to experience swelling in the operated areas. Your body reacts to the cosmetic surgery by producing more blood and fluid in the affected region. Plenty of rest, especially in an elevated position, helps to reduce swelling.
Post-surgery, your plastic surgeon might insert a surgical drain to draw out any fluid that collects in the area — another standard element of arm lift recovery. Drains help reduce swelling and the risk of infection. You might be required to maintain these drains, usually a straightforward process, but you can always get help from your doctor.
Resuming Activities Post-Surgery
As you navigate through the arm lift recovery phase, knowing which activities you can resume (and when) can help your recovery immensely. During the first week of recovery, it's advisable to refrain from any strenuous activity. You can resume light activities as directed by your surgeon, but avoid lifting heavy objects or high-impact exercises.
In the following weeks after surgery, you can start to slowly reintroduce daily activities and exercises as your body allows and in consultation with your surgeon. Remember to pace yourself during this time.
Importance of Wearing a Compression Garment
One of your new best friends during your arm lift recovery period is a well-fitted compression garment. Surgeons usually recommend wearing these for a few days or weeks after surgery. What does this do? A compression garment helps to control swelling, decreases the risk of complications like blood clotting, and aids in the healing process of the skin and muscles.
Maintaining a Healthy Diet
A healthy and balanced diet is one of the pillars of a smooth recovery process after cosmetic surgeries. Consuming enough protein and nutrients helps your body heal and reduces recovery time. Hydrating appropriately aids in maintaining healthy skin and controlling weight.
Beware of diet plans that promise drastic weight loss, as these could hamper your recovery process. A stable weight ensures your newly contoured arms maintain their shape!
Taking Care of Your Incisions
Incisions are inevitable in any surgical procedure, and an arm lift surgery is no different. Caring for these incisions is a big chunk of the arm lift recovery time. Ensuring your incisions are clean boosts the healing process and reduces the risk of infection.
Avoid exposing arm lift scars to the sun for at least six months after surgery. This will help your arm lift scars fade over a period of time and reduce their visibility.
Setting Realistic Expectations
Brachioplasty is transformative, but it's pivotal that realistic expectations are set. The arm lift procedure can significantly enhance your appearance, but the results take time to manifest fully. It is equally important to psychologically prepare for the arm lift surgery recovery process.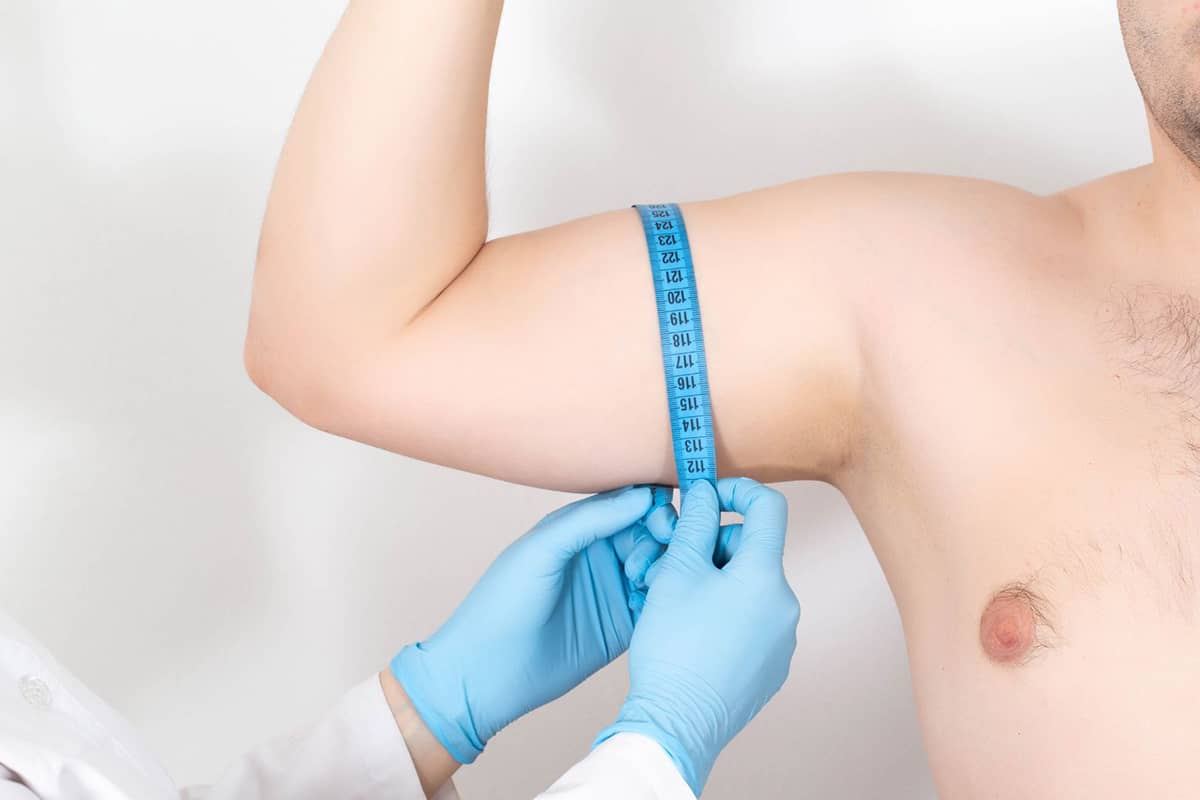 Post-Surgery Visits
Scheduled visits after your surgery are instrumental in monitoring your recovery process. Your plastic surgeon will likely want to see you periodically in the weeks following the procedure. These check-ups are not just about physical healing; mental wellness, concerns, and any discomfort can also be assessed during these visits.
Remember, everyone's recovery process is unique, and having a well-informed, open conversation with an expert, like Dr. Casey Holmes, is vital. The journey to attaining those sleek arms is within reach. Let's walk that path together!