Rhinoplasty in Naples
Are you unhappy with the shape of your nose? If so, the Aesthetic Surgery Center offers rhinoplasty in Naples, FL, to help give you the nose you've always wanted. A nose job is one of the world's most frequently performed cosmetic surgical procedures. It reshapes and refines the nose to improve its aesthetic appearance without leaving any noticeable scarring. Learn more about rhinoplasty and why it may be right for you.
Benefits and Beauty Through Rhinoplasty
Rhinoplasty is a surgical procedure that can help patients achieve their desired facial aesthetics. At Aesthetic Surgery Center in Naples, FL, our experienced surgeons have the skills and techniques to reshape a nose for improved symmetry, proportion, and overall beauty. They offer advanced surgical techniques, such as precise cartilage grafts, to provide patients with individualized results in our state-of-the-art surgical facility. Whether you need a minor correction or major repair to your current nasal features, our team is here to help you achieve the best possible outcome.
Enhanced Aesthetics
Rhinoplasty can correct imperfections, reshape the nose, and harmonize its appearance with other facial features, boosting self-confidence and overall facial balance.
Improved Nasal Function
This procedure can sometimes enhance airflow through the nose, reducing breathing difficulties. It may secondarily alleviate sinus problems and headaches associated with poor nasal function.
Reduced Risks and Quick Recovery
A less invasive approach to rhinoplasty ensures a faster recovery process and lowers the risk of revision surgery and post-operative complications, making it a safe and effective solution for patients.
Our Achievements
Rhinoplasty
Rhinoplasty, also known as a 'nose job', is a surgical procedure that can reshape the nasal structure in order to improve the appearance and/or function of the nose. During the procedure, the surgeon can either remove or rearrange nasal cartilage and bone in order to alter the shape of the nose. In addition to cosmetic purposes, functional rhinoplasty may be used to reduce scar tissue in the interior of your nose, correct issues with your nose such as a dorsal hump, wide nose, or deviated septum, and improve your breathing. Following an initial consultation with our specialist board-certified facial plastic surgeons at the Aesthetic Surgery Center of Naples, FL, we will develop a personalized treatment plan for you, which may involve an outpatient procedure.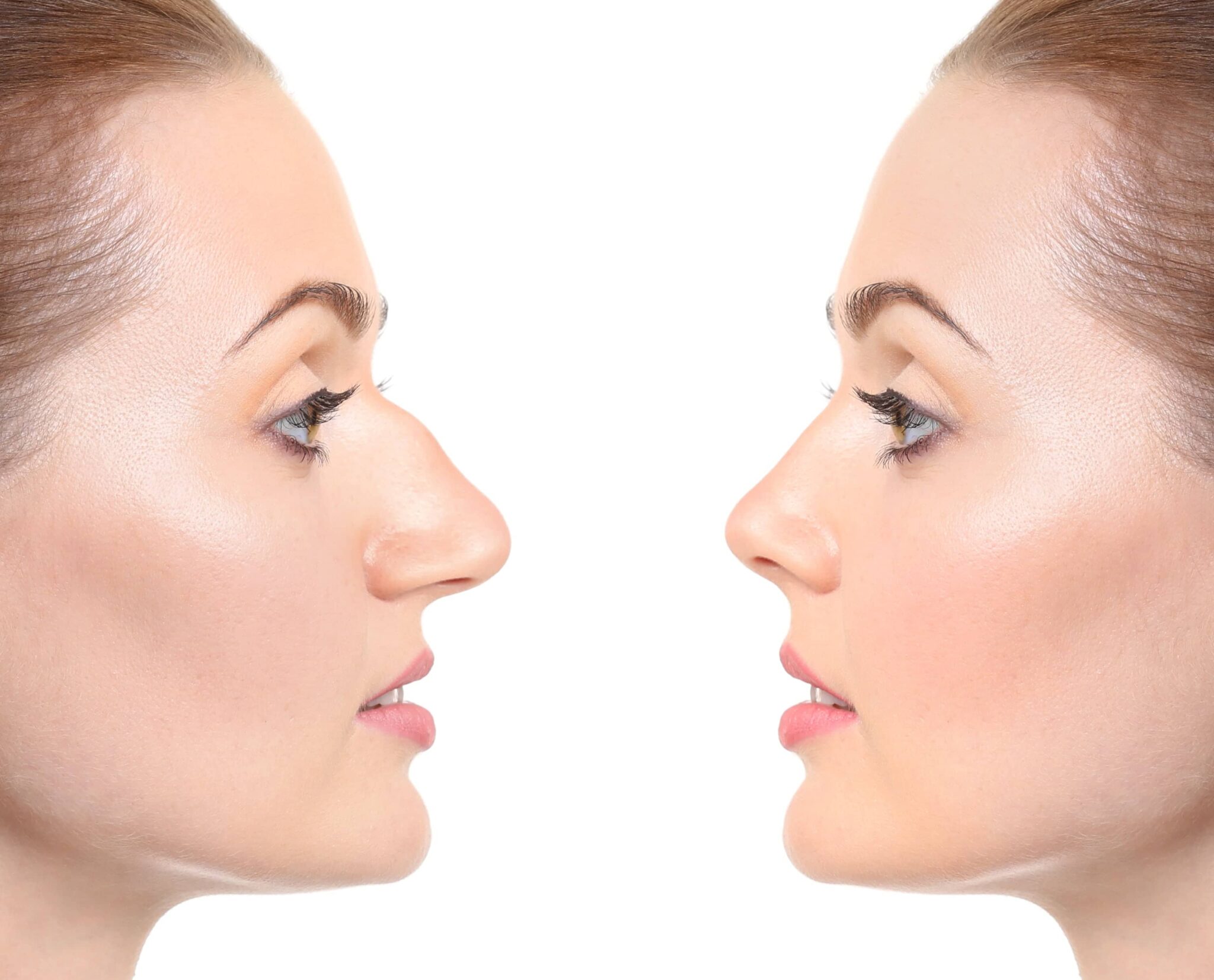 Finesse Rhinoplasty technique
This technique corrects deformities, improves function, and enhances appearance, making it ideal for addressing various nose concerns, including functional issues. Our experts at the Aesthetic Surgery Center utilize precision tools like the Piezosurgery ultrasonic device to minimize discomfort and reduce healing time, resulting in a favorable surgical outcome. Swelling and nasal drainage are common post-surgery, but the full aesthetic outcome may take about a year to become apparent due to gradual reduction of swelling. Rhinoplasty operations focus on both the functional and aesthetic aspects of the nasal passages, ensuring a comprehensive improvement in form and function.
Who Can Get Rhinoplasty?
To be eligible for rhinoplasty, candidates should have completed their facial growth, which typically occurs around the age of 16 for females and 18 for males. They should have a clear understanding of their aesthetic goals, including the changes they want to achieve through rhinoplasty. Furthermore, candidates for rhinoplasty should have realistic expectations about the outcome of the cosmetic procedure and be in good overall health.
In addition to these qualifications, candidates need to undergo a thorough rhinoplasty consultation with one of our board-certified facial plastic surgeons, who specializes in primary and revision rhinoplasty surgery. These surgeries are amongst the most complex cosmetic procedures performed on the face.
CALL TODAY TO SCHEDULE YOUR CONSULTATION
Rhinoplasty Recovery
The recovery period after rhinoplasty varies among patients, typically spanning at least six weeks post-surgery. Patients are advised to refrain from strenuous activities, eyeglass usage, or external nasal pressure of any kind during this time to avoid potential injury. To ensure successful healing, it's crucial to take it easy, allowing the body to recover properly. The duration of healing depends on the individual's body type and overall health, but by diligently following post-operative instructions, you'll soon enjoy the results of your rhinoplasty.
Risks and Complications of Rhinoplasty
At the Aesthetic Surgery Center, our top rhinoplasty surgeons excel in refining the nose. Rhinoplasty, a complex facial plastic surgery, requires practice for optimal results. To assess a surgeon's proficiency, review before and after photos in our gallery. Patients often seek correction for issues like nasal bumps, crooked or bulbous tips, or excessive projection from the face.
Rhinoplasty, like any surgery, carries potential risks including but not limited to bleeding, infection, nasal obstruction, asymmetry, and dissatisfaction with the cosmetic outcome. It's important to recognize the procedure's limitations, as it may not suit complex issues. Residual swelling can last for months, and healing varies by health and surgery extent. An experienced surgeon with impeccable technique minimizes risks and complications.
Aesthetic Surgery Twins 30 second commercial Video
Refining the nasal tip during Rhinoplasty
Differences between an open and closed rhinoplasty
Rhinoplasty Risks
What is the Cost of a Nose Job?
During your consultation, our surgeons review rhinoplasty recovery time, rhinoplasty risks, approach, expected results, rhinoplasty healing stages, and the entire nose surgery recovery process. After the consultation, you will be provided with the cost of the surgery to review. Rhinoplasty is not a cheap treatment, primarily because it is one of the most technically difficult procedures to perform well in all facial plastic surgery. There are surgical fees, facility fees, and anesthesia fees. The level of complexity, need for grafts, and time spent are all factored into providing you with an accurate cost for your nose job.
Rhinoplasty surgery is one of the most, if not the most, rewarding procedures performed on the face as the results are lasting and life-changing. The nose defines the midline of your face and helps to convey facial symmetry. Let us help you put your best face forward.
Related Procedures: Rhinoplasty, Revision Rhinoplasty, The UpLift Facelift, Endoscopic Mid Facelift Surgery, Eyelid Surgery, Eyebrow Transplant, Chin & Cheek Surgery, Skin Cancer Reconstruction, Hair Transplant Surgery, Surgery of the Ears, Fat Transfer (Fat Grafting), Lip Augmentation, Endoscopic Eyebrow Lift, Scar Revision
Why choose Aesthetic Surgery Center
Rhinoplasty FAQs
Will I bruise after a finesse Rhinoplasty?
It is called a Finesse Rhinoplasty because the nasal bones and cartilage are repositioned with very little nasal trauma.  Along with careful injections of local anesthetic, this results in minimal bruising post-operatively. Also, various cartilage shaping and suturing techniques are used to preserve nasal support but still achieve the refinements desired by Rhinoplasty.
Do I need someone to take care of me after my rhinoplasty?
It is required to have someone take care of you after a rhinoplasty for at least the first 24 hours.  Our advanced techniques allow us to perform precise and delicate rhinoplasty procedures, reducing any potential discomfort post-operatively. Having someone to provide assistance with household tasks or just provide emotional support can be beneficial for any individual undergoing such a transformative procedure.
What kind of anesthesia is utilized during Rhinoplasty?
Rhinoplasty is typically performed under a type of general anesthesia, called deep intravenous sedation.  Our patients are usually not intubated, are breathing on their own during surgery without inhalation gases, yet are asleep and comfortable during the procedure. Anesthesia is an important factor in patient safety and comfort and the type and amount of anesthesia used will depend on the individual's medical history, overall health, and specific surgical plan. During surgery, sedatives are often used to help ensure the patient's comfort during rhinoplasty and other facial surgeries. As with any procedure, a successful outcome is dependent upon both a skilled surgeon and the right anesthesia choice for each rhinoplasty patient. Patients should speak with their surgeon about any concerns they have regarding anesthesia or the cost of rhinoplasty before proceeding with surgery to ensure the best possible results.
Are there stitches placed during surgery and when are they removed?
Our board-certified facial plastic surgeons use fine, delicate sutures to close all incisions. The majority of these are dissolvable. The remaining non-dissolvable sutures are removed about 7 days post-operatively.
Is a revision rhinoplasty possible?
Drs. Agarwal and Maloney, our Double Board Certified Facial Plastic Surgeons, have vast experience in revision rhinoplasty, known as one of the most complex procedures in Facial Plastic Surgery. Their double board certification by ABFPRS and ABOTO-HNS ensures their expertise and ability to handle this challenging procedure.
When can I work out after the surgery?
Although you will be walking immediately after surgery, you will be able to resume brisk walking exercises at about one week post-operatively. You will be able to start running two weeks post-operatively. You can ease back into weight training after two weeks and advance from there. Contact sports should be avoided for about 6 weeks.
What Rhinoplasty office is near me?
If you live in the state of Florida, Aesthetic Surgery Center offers Rhinoplasty among its services. For a full list of services, please visit our Locations page.