Facelift Naples, FL (Rhytidectomy)
As time goes on, virtually all individuals experience a loosening of the skin on the face and neck. A procedure referred to as a facelift can drastically improve a person's appearance and self-confidence by correcting some of these issues. As with all plastic surgeries performed in Naples, there are advantages and disadvantages associated with facelift procedures.
Facelift Before & After Photos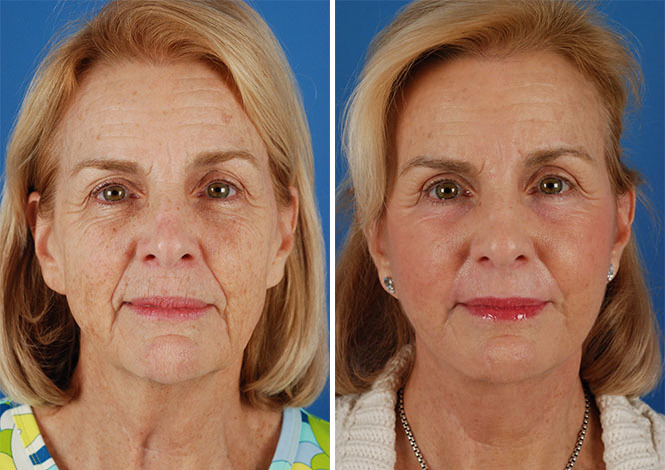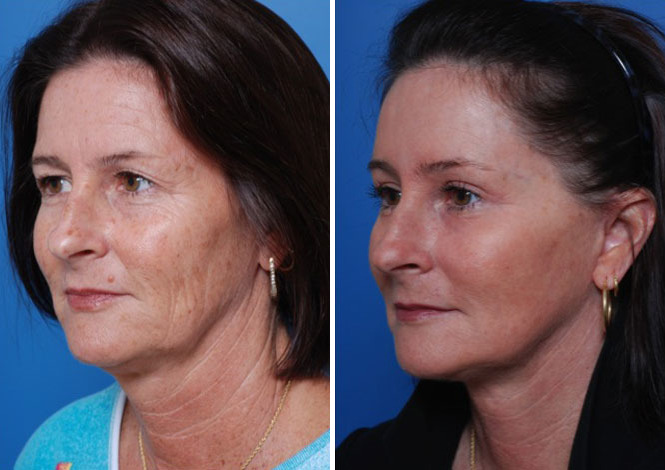 * Each patient is unique and individual results may vary.
Endoscopic Facelift
Generally speaking, a facelift does not stop the aging process or take away fine lines, but it does result in a more youthful appearance, a better-defined jawline, and a firmer neck. Many patients are concerned about appearing "fake" or "done" after such a procedure. However, if an experienced practitioner completes the facial rejuvenation procedure, it will not be obvious that any cosmetic work has been done. Rather, the person will simply look younger, less tired and in many cases, healthier. The surgeons with the highest success rates regarding such procedures typically ascribe to the philosophy that the ultimate goal of cosmetic work is to ensure clients still look like themselves but appear younger and more vibrant than before the procedure.
Dr. Agarwal, Dr. Maloney, and Dr. Holmes customize every facelift to maximize the patient's unique facial features, needs, and goals. Most often a multiplanar or multi-layer approach is chosen to achieve the most natural and desired look. This allows our surgeons the ability to restore your youthful identity. Custom-designed facelifts (when combined with the endoscopic technique) permit the vertical repositioning of target areas to achieve the most natural "lift" to the face. This customizing concept is especially important for men whose needs and goals are different from women.
The desired look is one that is refreshed, rested and youthful. The earlier in the aging process that a facelift is performed, the more enduring are the results.
Endoscopic Facial Plastic Surgery
What to expect in a Facelift Consultation
As with any cosmetic procedure, there is an initial consultation between the client and the surgeon before the procedure is scheduled. During the consultation, prospective patients are asked about the specific goals they hope to achieve with a full facelift. The surgeon then informs the client whether or not these goals are realistic and also makes recommendations concerning areas where he or she thinks improvements can be made. The surgeon will also discuss how the procedure is completed, what the client must do prior to the surgery, expectations following the procedure and facts about the recovery period. The doctor will gather facts about the prospective patient's health history during the consultation, as well. The client will then be given an estimate of the procedure's cost and any available financing plans can be discussed at this time.
What is a Facelift and what does it address?
Who are the best candidates for a facelift?
The Best Candidates for a Facelift
Although many individuals can benefit from endoscopic facelift surgery, surgeons typically agree that the best candidates share the following characteristics.
Have loose skin on the neck or face, with jowls
Look older than their years
Enjoy good physical health
Are well-adjusted emotionally
Will carefully follow postoperative and preoperative instructions
Additionally, the best facelift candidates should have good skin elasticity, as supple skin heals more rapidly than dry, sun damaged skin. Ideal candidates should also have realistic expectations regarding the procedure. Even though truly remarkable results can be achieved with a rhytidectomy, all cosmetic procedures are associated with certain limitations.
To learn more about Facelift, as well as other state-of-the-art surgical procedures the Aesthetic Surgery Center doctors perform, please contact us.
Facelift Procedure
The rhytidectomy procedure is typically performed under twilight anesthesia at an outpatient surgical facility. Incisions for a lower face and neck lift follow the normal curvatures of the ear, around the earlobe and behind the ear to the scalp line. Because the majority of individuals already have wrinkles in these areas, the incisions are well concealed following the surgery. Connective tissues and sagging muscles are tightened during the procedure and excess skin is removed. In certain instances, fatty deposits are suctioned out from beneath the neck and chin. Sutures are then used to close the small incisions.
Endoscopic procedures allow the surgeon access to hard-to-reach areas. These difficult-to-reach areas are in the central third of the face, including frown lines between the brows, the folds adjacent to the nose and the lines around the mouth. Tiny incisions are made behind the hairline in the temple. Using fiber-optics and a video camera, the relaxed skin and soft tissue in the face and neck can be lifted to its proper position with exacting precision. The baggy and tired muscles of the face are surgically tightened and lifted to regain natural and pleasing facial contours while preserving skin, hairline and skin sensitivity. Because this procedure preserves the fabric of the skin, it is suitable for patients in their late 40's, 50's, and onwards.
A lower face and neck lift can be performed alone or combined with endoscopic approaches to the forehead and midface (cheek area). The most pleasing results are created when rhytidectomy is performed in combination with eyelid surgery, forehead lifts, and laser resurfacing.
Facelift Recovery
Following Naples facelift surgery, patients are discharged to their home with a caregiver (friend, significant other, etc…). Certain patients choose to hire a private duty nurse to stay with them through the night in their own home. These options can be discussed with the surgeon in the initial consultation.
The dressing is removed the day after the procedure and a removable supportive wrap then applied. Incision care instructions are then reviewed.
Some of the sutures are removed between one and two weeks after the procedure, and some of the sutures dissolve on their own.
Most patients experience discomfort or pain for the first 24-48 hours, which is well controlled with pain medicine. The surgeon will prescribe medication to keep postoperative patients more comfortable as they recover. It is not unusual to have a certain degree of bruising and swelling following an endoscopic facelift procedure. Most patients are instructed to use cold compresses and avoid running or similar activities to keep swelling at a minimum. To prevent excessive swelling and the possibility of infection, a short course of post-operative steroids or antibiotics are often prescribed. Patients are encouraged to inform their surgeon of any severe or unusual side effects. Our plastic surgeons believe in meticulous post-op care and will see post-operative patients on a regular basis during the first two weeks after the procedure. They generally have follow-up visits with their patients at scheduled intervals for the first one year post-operatively.
Different types of facelifts
How Can I Extend the Duration of My Facelift Results?
Choosing the Right Endoscopic Facelift Surgeon
Because any type of cosmetic procedure is associated with a specific number of risks, it is essential to select a plastic surgeon that is both compassionate and experienced. Dr. Agarwal's, Dr. Maloney's, and Dr. Holmes's experience in facial plastic surgery and their rapport with patients of all ages and from all walks of life makes them an ideal choice for those planning endoscopic facelift surgeries.
Dr. Agarwal, Dr. Maloney, and Dr. Holmes are highly qualified to perform numerous cosmetic procedures with the skill and precision that only an experienced surgeon can offer. For this reason, anyone who is considering a rhytidectomy should schedule a consultation with Dr. Agarwal, Dr. Maloney, or Dr. Holmes to learn about all the options. In this way, prospective clients can discuss the pros and cons of various facelift methods and discover whether or not rhytidectomy is a wise choice.
Non-Surgical Options besides Facelift
The Aesthetic Surgery Center has several non surgical facelift options in Florida, but this is really a misnomer. A true facelift is a surgical procedure with unparalleled results, and performed by our plastic surgeons daily, especially when other overhyped oversold non surgical options have failed (i.e. Ulthera, Thermage, etc…). While non surgical options cannot achieve the results of a true facelift, they can accomplish several goals. Some of these non surgical options include:
Injectables
ThermiSmoothTM.
These treatments can all help with signs of aging with varying amounts of downtime, longevity, and outcome. Lasers can help reduce the appearance of fine lines, wrinkles, and blemishes, while tightening the skin. Depending on the type of laser chosen (i.e. Erbium-YAG, fractional CO2 laser, ablative CO2 laser, etc…), the initial downtime varies from few days to several weeks. Injectable fillers and Botox Cosmetic are also common treatments administered to lift the face, and often called a "liquid facelift". They are used to reduce wrinkles, volumize the face, and lift the eyebrows non-surgically.
Injectables are convenient, minimally invasive, and have minimal down time. ThermiSmoothTM is a radiofrequency skin tightening procedure that requires no downtime but is performed in a series of four weekly treatments by our aestheticians. There is no downtime. It works by heating the skin to a desired temperature which induces skin tightening by collagen contraction and remodeling, as well as long term stimulation of collagen production. Please contact the Aesthetic Surgery Center at 239-594-9100 for a consultation for your non surgical facelift options.
Facelift FAQs
How do I know if I am a candidate for a facelift?
An individual consultation with one of our Naples plastic surgeons, Dr. Agarwal, Dr. Maloney, or Dr. Holmes is the best way to determine which procedure is best suited to meet your goals. During this consultation, the surgeon will listen to your goals, examine you, and explain proposed changes to you.
I am 42 years old, am I too young for an endoscopic facelift?
No. The beauty of this procedure is that the face is strengthened in multiple layers during an endoscopic facelift. The flexibility of this procedure allows it to be custom designed to suit the needs of a 42-year-old, or a 69-year-old.
How long is the recovery process?
Generally speaking, it takes two weeks for most of the swelling and bruising to resolve. This can vary from individual to individual. When an endoscopic midface lift is performed, there is some cheek swelling that persists for about 3 weeks post-operatively.
How long do the results last?
A facelift will make you look younger than your chronologic age. However, you will continue to age after the procedure. The best way to think about this is setting the clock back on the aging calendar. For example, if you are currently 65 years old, and after a facelift, you look 55 years old, then 10 years from now you will look 65, not 75 years old. You will always look younger than you would if you had not had the facelift.
Are there any drains after the procedure?
Our Plastic Surgeons, Dr. Agarwal, Dr. Maloney, and Dr. Holmes use ultra-thin drains for about two to three days post-operatively in order to reduce bruising and swelling. If drains are used, these are removed easily in the Naples or Fort Myers office.
Do I need someone to take care of me after my surgery?
You will need someone to help you for at least one or two days post-operatively. If a supportive friend or family member is not available, then home nursing can be arranged through our office.
What kind of anesthesia is utilized during an endoscopic facelift?
Twilight sedation is used most commonly. During this type of anesthesia, you will breathe on your own, but you will not remember anything. It is a quick-acting type of anesthesia that also wears off quickly. Because you are breathing spontaneously, an endotracheal tube is usually not used.
Am I going to bruise my skin after a facelift?
There is some amount of bruising after a facelift. This varies from individual to individual. Because the endoscopic facelift technique requires good visualization during the surgery, bleeding is kept to a minimum. As a result, bruising is minimized.
Are there stitches and when are they removed?
Our plastic surgeons use fine, delicate sutures to close all incisions. The majority of these are dissolvable. The remaining sutures are removed about 7-9 days post-operatively.
Where is the procedure performed?
Most procedures are performed at our state of the art AAAASF (American Association for Accreditation of Ambulatory Surgery Facilities) certified office surgical center.  We maintain an impeccable operating room and suite, with utmost attention to your safety.
When I can workout after an endoscopic facelift?
You will be able to resume walking exercises about 3-4 days post-operatively. You will be able to start running and weight training two weeks post-operatively, and advance from there.
When can I play golf after my Surgery?
Generally speaking, you can begin putting and chipping at two weeks. You can resume your full swing at three weeks.
When can I swim after an endoscopic facelift?
Assuming there is no laser resurfacing performed simultaneously with the endoscopic facelift, you can submerge your head 21 days post-operatively.
When can I color my hair?
Ideally, we recommend coloring your hair a couple of days before your endoscopic facelift. You can color it again 3 weeks post-operatively.
When can I shave?
Men who have facelifts can use an electric razor gently two days post-operatively. Care must be taken to avoid all sutures. Shaving with a blade can be undertaken three weeks post-operatively.
Is a Facelift painful?
Most patients complain of a tight sensation, temporary numbness, and slight discomfort. Pain is uncommon after facial surgery.
When can I drive?
After an endoscopic facelift, you will be able to drive your own car about 3-4 days post-operatively, provided that you are not still taking narcotic pain medicine.
When can I return to work after an endoscopic facelift?
At the Aesthetic Surgery Center in Naples, Florida, we have many national and international patients who fly to Naples for their facial plastic surgery. We ask that you remain in town for a full 14 days after a facelift. After that, you are free to fly. Return to work depends on the profession. If you work from home via the internet or telephone, you can resume work after 4-5 days. If you have to go into an office or be seen by clientele, we recommend you return to work about 2-3 weeks post-operatively, likely with makeup.
How long will the scars be noticeable after my surgery?
Many of the incisions for an endoscopic facelift are hidden in the hair-bearing scalp, or in the mouth. These are difficult to detect as they heal. The scars around the ears are well hidden but are slightly red and noticeable upon close inspection for two months post-operatively. Beyond that, they fade into fine white lines and blend in beautifully.
If I am a smoker, can I have a facelift?
Smoking has been shown in numerous scientific publications to dramatically affect the healing of facial skin and soft tissues post-operatively. At the minimum, you should stop smoking completely 2 weeks prior and for 2 weeks after a facelift. If you absolutely cannot stop smoking, hyperbaric oxygen may be utilized before and after the facelift to reduce but not eliminate the chances of wound healing problems. In a limited subset of patients, the endoscopic technique can be adjusted so that the skin layer is not disturbed, thereby preserving its blood supply while your surgeon works on deeper layers.
Do I have to stop any medications before my facial surgery?
Our nurses at the Aesthetic Surgery Center will provide you with a comprehensive list of medications (both prescription and non-prescription) that are known to increase bleeding and affect wound healing after surgery. These should be stopped about 14 days pre-operatively.
How does a deep plane facelift differ from a mini facelift or midface lift?
The deep plane technique elevates the deeper layer of muscles in the face to tighten up loose skin. In other words, it tightens not only the skin on the face but also elevates the muscles beneath so they'll be more supportive and hold up better over time. Read our blog to learn more about how it compares to other facelift procedures.
What facelift office is near me?
If you live in the state of Florida, Aesthetic Surgery Center offers facelift among its services. For a full list of services, please visit our Locations page.
Why choose Aesthetic Surgery Center
Schedule Your Facelift Consultation in Naples Today
Quite frequently, a prospective patient will contact our office and request a Consultation for an Endoscopic Facelift. They often are under the impression that a facelift means the entire face. However, at the Aesthetic Surgery Center, we like to divide a facelift into three parts:
Endoscopic brow lift (addressing the forehead and eyebrows)
Endoscopic midface lift (addressing the cheeks)
UpliftTM lower face and neck lift (addressing the jowls and neck)
Scheduling a consultation is the first step. There is no facelift without surgery. A non-surgical facelift usually refers to using injectable fillers to volumize the face and possibly laser resurfacing to refresh the skin. If you would like to watch a lower face lift surgical video or a video explaining the various parts of a facelift in more detail, please visit the video center on our website, under "Resources" on our home page. While videos can be illustrative, it is at your individualized consultation that cosmetic surgery specifics are addressed. Some of the questions that are answered include:
What is lower face lift recovery?
How long does a lower face lift last?
What is a mid face vs facelift?
What does face lifting surgery cost?
Where are the incisions?
When can I travel?
When can I work out again?
Scheduling a consultation with Dr. Agarwal, Dr. Maloney, or Dr. Holmes at Aesthetic Surgery Center is the first step in helping you to achieve your personal goals. We look forward to meeting you!
Related Procedures: Rhinoplasty, Revision Rhinoplasty, The UpLift Facelift, Endoscopic Mid Facelift Surgery, Eyelid Surgery, Eyebrow Transplant, Chin & Cheek Surgery, Skin Cancer Reconstruction, Hair Transplant Surgery, Surgery of the Ears, Fat Transfer (Fat Grafting), Lip Augmentation, Endoscopic Eyebrow Lift, Scar Revision