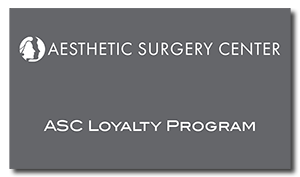 We are proud to introduce Aesthetic Surgery Center's Loyalty Program.
It is with appreciation of your patronage and busy calendar that we extend you the opportunity to garner savings and schedule at your convenience, every day of the year.
ASC Loyalty Program
For a $450 Annual Fee, the ASC Loyalty Program benefits include:
15% Savings on Botox® Cosmetic treatments
15% Savings on Injectable Fillers, excluding fat transfer
15% Savings on Skin Spa Services and Non-prescription Skin Care Products
ASC Loyalty Program is not transferable to another individual.
Botox® Cosmetic and Injectable Fillers are administered at the discretion of our plastic surgeons.
Membership discount cannot be used with other office specials or discounts.
Membership discount does not apply to ThermismoothTM or UltrashapeTM procedures by aestheticians.
Please call us at 239-594-9100 to sign up as an ASC Loyalty Program member and enjoy your 15% savings immediately on the above injectable and Skin Spa services.