Mommy Makeover Naples, FL
Despite the joy of motherhood, many women find it difficult to accept the lax skin, loose muscles, stretch marks, and drooping breasts that pregnancy leaves behind. When diet and exercise alone aren't enough to restore your youthful body contours, a mommy makeover can help you reclaim your pre-pregnancy body. Dr. Holmes works to understand each woman's specific goals for a mommy makeover in his Naples practice.
The results of mommy makeover procedures can be transformative. Not only can you restore the breasts, abdomen, and other feminine body contours, but you can also improve them—higher breasts with a more youthful fullness and shape, tighter abdominal muscles, fewer stretch marks, and less stubborn fat. As an experienced aesthetic plastic surgeon, Dr. Holmes genuinely understands what pregnancy does to a woman's body, which he considers carefully during his surgical planning.
What is a Mommy Makeover?
Plastic Surgeon Dr. Holmes performs the mommy makeover in Naples, Florida, for women who desire to improve their overall appearance, including their breasts, belly, butt, and waist. The surgery enhances the shape and height of their breasts, tightens stretched stomach muscles for a firm tummy, redefines their waistline, and removes areas of stubborn body fat for exceptional contouring and total transformation. Each makeover varies but may include a Brazilian butt lift for added volume in the buttocks, breast implants, vaginal laser improvements, and more.
Breast Enhancement: Pregnancy and breastfeeding significantly stretch and pull the breast tissue. Dr. Holmes may recommend a reduction and lift for overly dense breasts, but in other cases, he may suggest augmentation with breast implants. Perky, youthful breasts with uplifted nipples restore the mom's confidence and self-image.
Tummy tuck: The mommy makeover typically addresses the belly using abdominoplasty to remove the excess skin and stretch marks from the lower abdomen, tighten stretched stomach muscles, and reposition and reshape the belly button. A firm, flat stomach and contoured waist replace the effects of pregnancy and provide restored confidence while at home, at work, or on the beach.
Body Contouring: Body contouring sculpts and transforms the body to add curves in all the right places, including the butt, waist, and thighs.
Mommy Makeover Candidates
Women who are dissatisfied with the appearance of their body after pregnancy due to stretch marks, flabby skin, stretched breasts, and excess belly fat may be good candidates for a total makeover. Dr. Holmes determines candidacy for mommy makeovers during a private consultation in Naples, Florida. The multi-strategy plastic surgery makeover includes laser options and reduced incisions whenever possible for a faster recovery. The customized mommy makeover is recommended for women who are in good health, who have finished having children, and who have realistic plastic surgery expectations.
Dr. Holmes examines each patient and reviews their health history to determine if the combined procedures are the right choice. The doctor shares before and after photos from prior patients and creates a mommy makeover based on each case, which may include labiaplasty to repair vaginal changes after delivery, a tummy tuck, or liposuction body contouring. The surgery provides women with perky, youthful breasts, a flat belly, and other options, which provide a boost in confidence. Plastic surgeon Dr. Casey Holmes has many years of experience, and he will explain the risks, benefits, and recovery during the consultation.
Should I Consider Undergoing a Mommy Makeover Surgery?
A mommy makeover is a combination of surgical procedures that include breast lift and/or augmentation, tummy tuck, and/or liposuction to restore or improve body contours after pregnancy. Dr. Holmes understands that motherhood is challenging, and restoring your body to its pre-pregnancy state may be impossible despite strict diet and exercise regimens. Dr. Holmes will offer his expert evaluation of your specific needs as well as the procedural process.
Mommy Makeover with Dr. Casey Holmes
During your mommy makeover Naples consultation, Dr. Holmes will evaluate your anatomy, discuss your concerns, and thoughtfully design a unique surgical plan to safely and effectively meet your goals. Every mommy makeover is completely customized to each patient, combining breast, abdominal, and, in some cases, liposuction procedures to address lax skin, loose muscles, stretch marks, drooping breasts, and enlarged areolas.
Breast Lift / Breast Augmentation
Dr. Holmes's recommendations will depend on the quality of your skin, the amount of skin that needs to be removed, and how far to elevate the nipple-areola complex. For patients who are happy with their size, breast lift surgery alone is sufficient. However, if you are looking to increase volume, you can combine breast lift surgery with breast augmentation to give a fuller, more uplifted look.
Breast lift surgery involves making scars on the breast. The surgeon can use several techniques for breast lift surgery. However, the three most common techniques include periareolar mastopexy, vertical mastopexy, and Wise-pattern mastopexy. The surgeon will choose the best technique considering the amount of excess skin and lift a patient requires.
Tummy Tuck
Dr. Holmes will use a specific tummy tuck technique depending on the amount and location of abdominal correction. The tummy tuck is designed for patients with lax skin in the upper and lower abdominal areas who require a significant amount of skin and fat to be removed. If you have lax skin below the navel only and require only a minimal amount of skin to be removed, you may be a good candidate for a mini tummy tuck procedure.
Tummy tucks involve making scars on the abdomen, though they will fade and flatten over time. Dr. Holmes will place incisions under your bikini line, so they will be well concealed with minimal clothing coverage.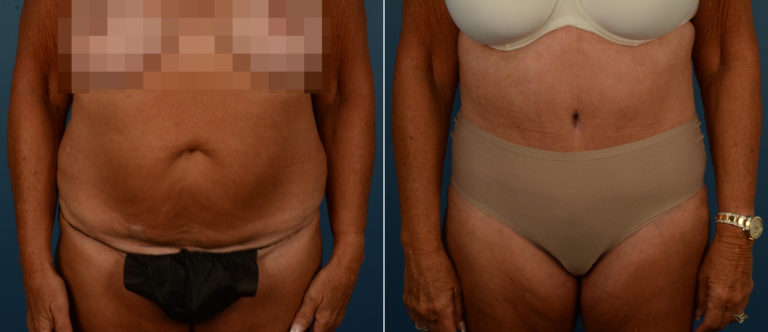 Liposuction
Dr. Holmes may also recommend liposuction to remove stubborn fat pockets and refine your breast and abdomen. The doctor can also use liposuction to contour other parts of the body, including the thighs and flanks (love handles).
Time in surgery takes approximately 4 hours, depending on the type of procedure performed. You can expect to return to work in about 2 weeks.
Related Procedures: Tummy Tuck (Abdominoplasty), Mini Tummy Tuck (Mini-Abdominoplasty), Brachioplasty (Arm Lift), Thigh Lift, Liposuction, Body Contouring After Weight Loss, Labiaplasty, Brazilian Butt Lift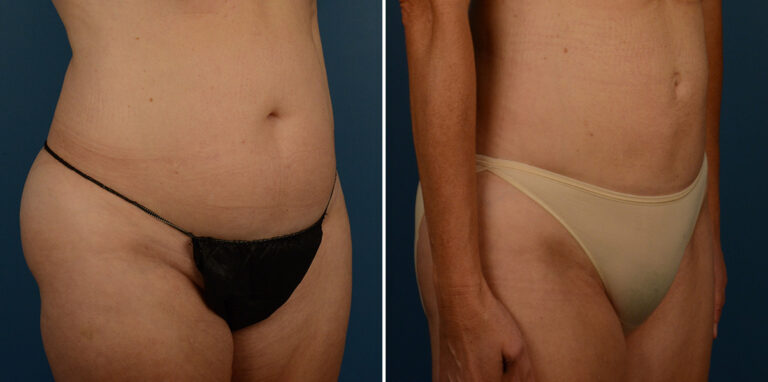 Mommy Makeover FAQs
Can I be considered as a candidate for a mommy makeover?
If you would like to restore your body to the contours you had before pregnancy and childbirth, you may be a good candidate for a mommy makeover. Your weight should be stable and within 10% of your ideal weight. This procedure is best performed after your last pregnancy.

If you are considering undergoing a mommy makeover procedure, you should have an initial consultation with a board-certified cosmetic surgeon to determine if you are a suitable candidate. During your personal consultation, the doctor will evaluate your anatomy and discuss your concerns to create a unique surgical plan that will safely and effectively meet your goals. Generally speaking, women who would like to restore their bodies to the contours they had prior to pregnancy or childbirth could be considered to be candidates for this procedure.

To undergo this cosmetic surgery, your weight should be stable and within 10% of your ideal weight. This should be done prior to having the procedure since significant lifestyle changes or fluctuations in weight can impact the results of the surgery. Additionally, the surgeon should perform the mommy makeover after you have completed having children as subsequent pregnancies can undo some of the effects of this single procedure.

The mommy makeover typically includes procedures such as breast lift/augmentation, tummy tuck (abdominoplasty), and liposuction, which address loose skin on the abdomen/breasts/arms as well as stretched abdominal muscles from multiple pregnancies.

What can I expect during a mommy makeover consultation with Dr. Holmes?
During your consultation, Dr. Holmes will review your pertinent medical history and assist you in the development of a personalized treatment plan that will help you realize your goals. You can ask Dr. Holmes any questions, and he will review with you the techniques he will use, and what you can realistically expect regarding your expected results, recovery time, and cost, as well as financing options.
Can you describe the recovery process for a mommy makeover?
The recovery process for a mommy makeover can vary depending on the individual and the specific procedures performed. Generally, most patients can expect to experience some level of discomfort following their surgery, which will subside over time. Common post-operative instructions include keeping your head elevated, abstaining from strenuous activity for several weeks, wearing compression garments to help reduce swelling, and attending all follow-up appointments as recommended. Depending on the procedures included in your mommy makeover such as liposuction or tummy tuck, you may be required to use surgical drains during the recovery period. Ultimately, you must follow all of Dr. Holmes's instructions carefully to achieve your aesthetic goals and avoid any complications.
When can I return to work and resume normal activity?
A mommy makeover generally requires a 10-day to 2-week recovery period. After the first 2 weeks, you will probably be able to resume most of your normal activities, including work. After 2 to 4 weeks, you may resume more strenuous exercise and activity.
What mommy makeover office is near me?
If you live in the state of Florida, Aesthetic Surgery Center offers mommy makeover among its services. For a full list of services, please visit our Locations page.
Why choose Aesthetic Surgery Center