We're all familiar with collagen, or at least know of it. Known for its association with facial aging, you've most likely heard it in skin product commercials and adverts. A recent trip to your favorite beauty and cosmetics store is enough to see it listed on various displays. And there's a reason for that.
Understanding what collagen is and how to promote its production is essential for fostering optimal skin health. As we age, collagen production slows down, and giving our skin a helping hand can go a long way. It's also important to know what works best and what is a waste of time for rebuilding collagen.
What is Collagen?
Collagen is the most plentiful protein you have in your body and accounts for about one-third of your body's protein composition. It's an essential protein in the extracellular matrix of the body's connective tissue. 
The collagen molecule is an elongated triple helix, which is a fancy way of saying it looks like three strands of undercooked spaghetti that have stuck together in a twisted manner.
You can find collagen in fibrous tissues that include the skin, tendons, and ligaments.
Collagen is vital to many functions that relate to your skin and joints. In effect, you may know collagen to be great for your skin, but it has a few other attributes worth mentioning.
What Does Collagen Do?
As an abundant protein in your body, collagen has several uses. Let's walk through some:
Collagen Fosters Joint Health
Let's start with how collagen relates to your joints.
With it being rich in amino acids, collagen is a building block of joint cartilage. It's anti-inflammatory effects help keep your joints' function pain-free.
Studies show that daily oral consumption of collagen supplements can help protect from osteoarthritis. Collagen hydrolysate supplementation helps your body produce joint collagen. Further research shows that those with rheumatoid arthritis can also benefit from it. 
Is Shown to Prevent Bone Loss
Aging with grace means that we can perform various activities well into our later years. Taking steps to safeguard your bone mass is a good preventative measure for all. Similarly to collagen, bone mass decreases as people age.
In a study aimed at studying bone loss in women, participants that took collagen, as well as calcium supplements, had blood markers that translate to better bone health.
Promotes Better Muscle and Heart Health
Although it may not be conclusively proven yet, taking collagen seems to promote better heart health. The collagen molecule provides structure to blood vessels. It makes arteries more flexible and can help prevent strokes and heart attacks by promoting better blood circulation.
Since your heart is a muscle, you'll be excited to know that up to 10% of your muscle tissue is made of collagen. Supplementing with this vital protein is great for keeping all your muscles functioning well.
Benefits of Collagen for the Skin
The benefits of collagen are mostly known for are skin hydration and elasticity. It makes the skin stronger and keeps you looking radiant. Collagen is one of the casualties of aging as your body produces less of it with time.
This is to blame for the dry skin and the wrinkles that start with fine lines early on. If you burden your skin with your bad habits and don't take preventative measures, the effects will only get worse. Fortunately, there are several things you can do to boost your collagen production.
Ways to Boost Collagen Levels
There is no "one way" to boosting your collagen levels. They can be improved by supplementing properly and avoiding behaviors that can lead to its breakdown. Here are some:
Hyaluronic Acid
Hyaluronic acid is a compound that improves collagen in your skin. You can find it in foods that contain amino acids. These foods include root vegetables, beans, and soy, to name a few. 
By increasing this type of food intake, you can naturally increase collagen levels. However, if you're looking for alternatives to simply changing your diet, there are hyaluronic acid supplements you can take.
Vitamin C
You probably already know that vitamin C is helpful to your immune system. Having enough of the vitamin in your body also helps protect the skin from free radicals and creates more collagen.
You can get plenty of vitamin C from leafy green vegetables, broccoli, and citrus fruits. Just as with other nutrients, you can supplement with vitamin C to make sure you're getting enough for your skin's needs.
Other Antioxidants
Vitamin E and beta carotene are powerful antioxidants that complete your collagen-building puzzle.
For maximum collagen production, be sure to include green tea, astragalus, cinnamon, blueberries, licorice, and mulberry extract in your diet. Either separately or in tasty combinations, you can create powerful antioxidant foods and beverages that will keep your skin looking great.
Preventative Measures
Prevention is always preferable to stressing over a cure. Following a few simple tips will keep your skin in great shape while providing you with maximum benefits when you apply collagen-boosting practices. Here's a look at what you should be avoiding to keep your natural collagen production optimal.
Reduce Sun Exposure
Moderate exposure to the sun is great for getting vitamin D, but it's important not to overdo it as you could be inflicting harm on your skin. Try to reduce your sun exposure and always use adequate sunscreen when you're getting some rays.
UV radiation damages the skin and creates free radicals. These culprits of aging are detrimental to your collagen levels and can also promote unnecessary inflammation in your body. 
Be Wary of Pills and Powders
Oral supplementation of collagen can be convenient as well as efficient. Just be aware that supplement quality will vary based on product or brand.
Consult with a dermatologist or aesthetic surgeon about finding a supplement made of the cleanest, most natural ingredients. 
Is Collagen Supplementation Safe?
No significant side-effects
Collagen is one of the most well-tolerated supplements you can consume.
There are no significant side-effects to speak of and only a few potential minor disturbances that may appear.
These include mild diarrhea, rashes, or a feeling of heaviness in the stomach.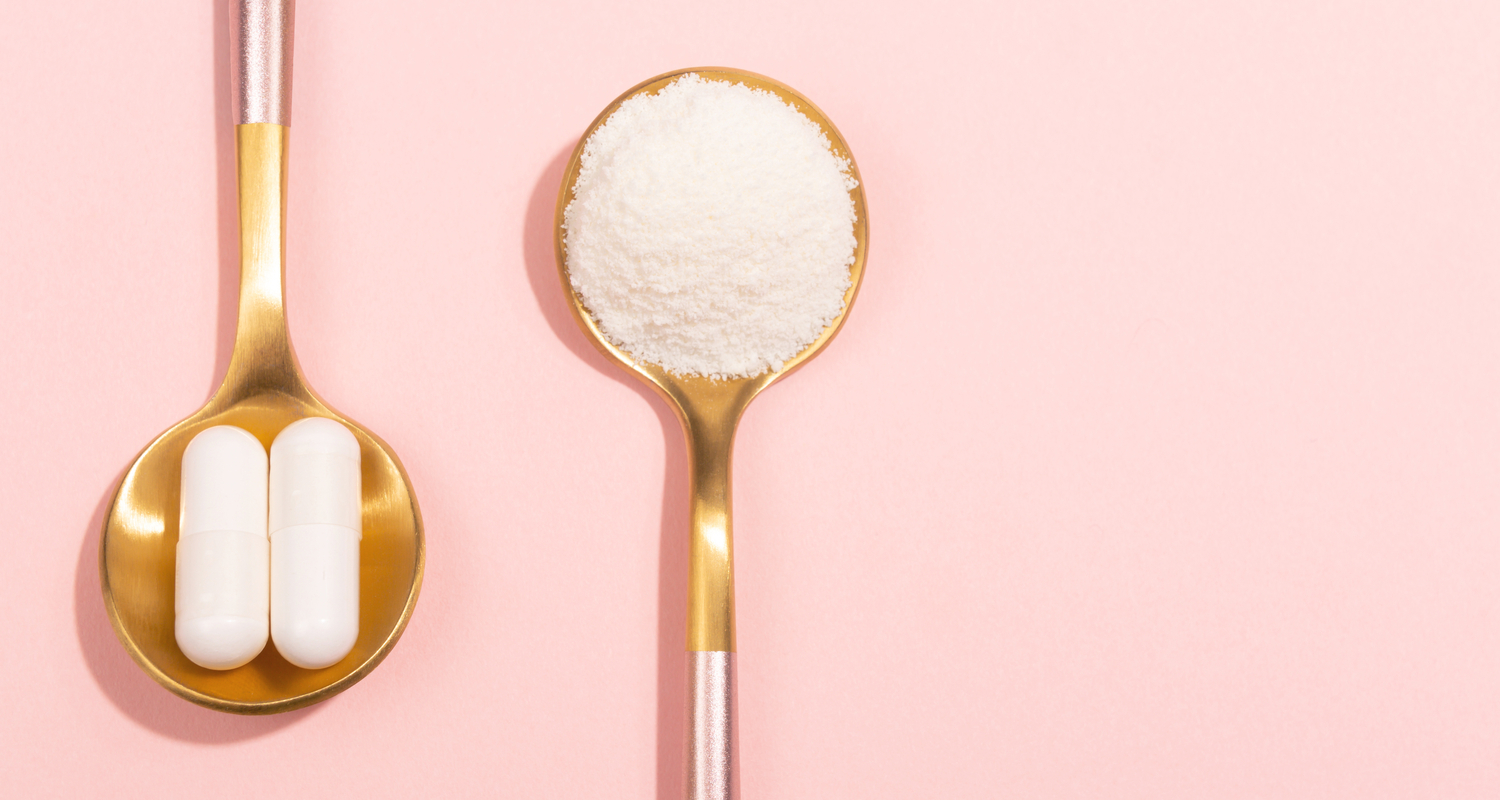 Contact Us Today
If home remedies or alternatives can't help stimulate collagen production, there are cosmetic treatments available like BOTOX or dermal fillers that can be customized just for you. For more information, call us today at (239) 594-9100. Our helpful staff will help you schedule an appointment with our specialists, or you can fill out our online contact form.
Loss of collagen in the face usually means a huge sign of aging for many of us. But can collagen be rebuilt? Read what the experts have to say.