A facelift procedure, or rhytidectomy, is designed to diminish the signs of aging on the face and neck using various surgical strategies. A traditional facelift naples fl involves a long row of stitches starting at the temporal hairline, extending around the ears, and then continuing down along the lower scalp. From here, the tissue and muscles are lifted and tightened, sagging skin is tightened and trimmed, and fat cells can be redistributed as necessary. It is an extensive but effective procedure. An endoscopic facelift, on the other hand, can take these benefits one step further for patients.
What Is Endoscopic Surgery?
Endoscopic surgery is an alternative approach to traditional methods that offers minimally invasive techniques. Typically, endoscopic surgeries begin with a few small incisions through which a long, flexible tube is inserted. This tube is fitted with a tiny camera and light that allows the surgeon to see inside the treatment area through the images displayed on a screen. More incisions may be added to specifically target other areas, but this procedure does not require the large number of incisions required for a traditional facelift in naples.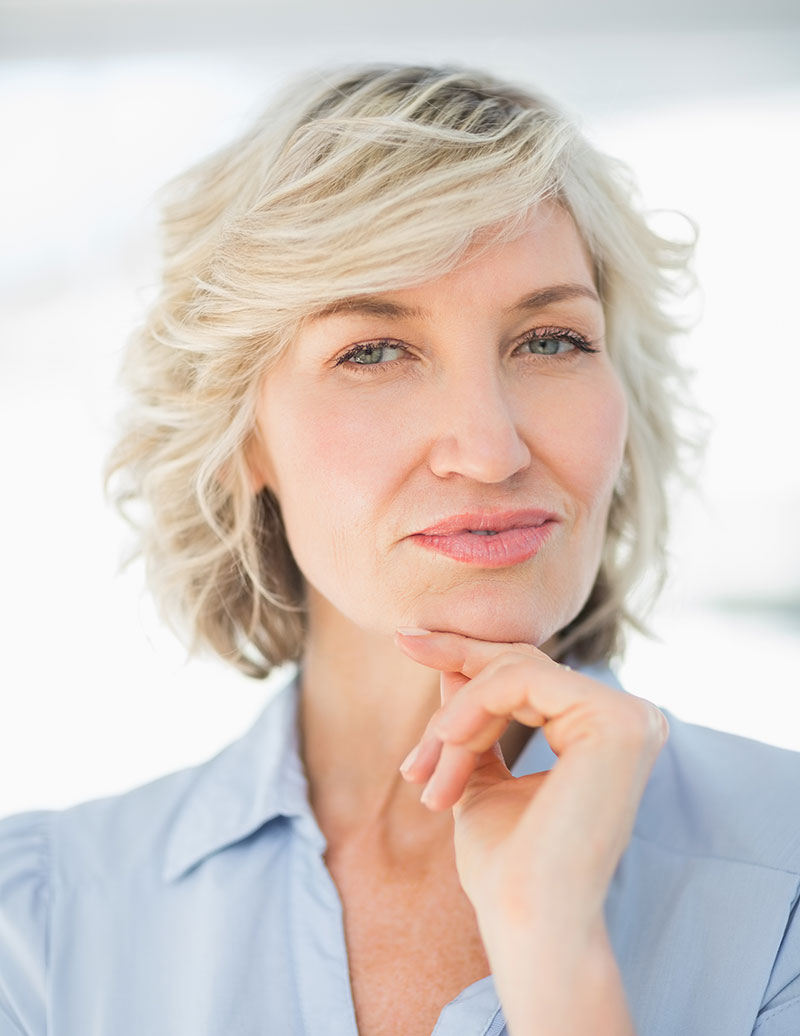 What Is the Endoscopic Facelift Procedure Like?
An endoscopic facelift procedure begins with tiny incisions placed behind the hairline above the ear. The fiber optics and video camera are then inserted into these incisions to allow the surgeon to lift the skin and soft tissue of the face. The baggy, tired muscles of the face will be surgically tightened with fine precision, then lifted in order to regain a natural, more youthful appearance. The endoscopic facelift preserves the fabric of the skin, so it is an ideal choice for patients in their 30s, 40s, and 50s who are hoping to proactively fight the aging process.
What Are the Benefits of Endoscopic Facelift Surgery?
The endoscopic approach offers many new benefits to facelift patients that go beyond anti-aging. Some of the benefits of choosing this alternative surgical technique include:
Access to hard-to-reach areas. Traditional methods don't allow a surgeon to reach the central third of the face in particular. Endoscopic techniques allow access to the frown lines between the brows, the folds adjacent to the nose, and the cheeks.
A natural-looking facelift. An endoscopic facelift can achieve a more natural vertical lift in addition to the horizontal adjustments of a traditional facelift.
Precision. The fine instruments, combined with the endoscopic camera, allow your facial plastic surgeon to refine his or her techniques and make precise adjustments.
Minimal scar results. The small incisions needed for an endoscopic facelift are well-hidden and tough to spot once they've healed, even if you know they're there.
Less time. The procedure takes less time to perform than a traditional facelift.
Shorter recovery. Not only will you recover more quickly from an endoscopic facelift than from a traditional facelift, but your recovery will also be less extensive. There are far fewer incisions that need to heal and the changes made are sometimes less traumatic for the face in general.
Reduced risks. All surgeries carry some risks, even endoscopic procedures. Yet, the endoscopic facelift can reduce patient risks significantly so there's a much lesser chance of developing an infection, having bleeding issues, and more.
Am I a Good Candidate for an Endoscopic Facelift?
While the endoscopic procedure can provide terrific facelift results for nearly any patient, there are some circumstances that are ideal for treatment with this method. The best candidates for endoscopic facelift surgery have moderate facial imperfections that are the result of excess fatty tissue and loosened facial muscles. Typically, these patients may be experiencing sagging cheeks, visible lines around the nose, and thin lips that turn down. Their skin is often still supple and without significant sagging, although the process may have begun.
Endoscopic facelift techniques are best suited to those in the early to middle stages of aging, usually ranging in age from their early 30s to late 50s. Beyond their age and degree of aging, these patients should also be in good overall health and not smoke. It's also essential that they understand what the endoscopic facelift procedure can do for you and what your expected results should be. Finally, these patients should be able to commit to the time it will take to plan for and heal from this surgical procedure.
Plan Your Endoscopic Facelift Consultation Today
To get more information about facelift naples and how it might benefit you, contact the Aesthetic Surgery Center to book an appointment with Dr. Anurag Agarwal or Dr. Richard Maloney, our double-board-certified facial plastic surgeons. They have been featured on many of the major news networks, including ABC, NBC, and FOX, as recognized experts on a variety of facial plastic surgery topics. Dr. Agarwal and Dr. Maloney believe that educating and communicating with their patients are the keys to helping them achieve successful, natural-looking results. Book your appointment at the Aesthetic Surgery Center, located at 1175 Creekside Parkway #100 in Naples, FL, by calling (239) 594-9100 and discuss with us the face lift cost.