Rhinoplasty, often referred to as a nose job, is a surgical intervention aimed at either improving how the nose looks or improving its functionality. While the procedure is relatively common, the development of scars post-surgery is a concern for many patients. With the right care and management, it's possible to minimize the visibility of these scars.
After your rhinoplasty, your surgeon will provide you with a set of post-operative instructions. These should be followed as closely as possible in order to reduce the risk of infection and facilitate healing. This includes avoiding any strenuous activities like sports or exercise, keeping the head elevated when sleeping, and avoiding contact with water for a few weeks after surgery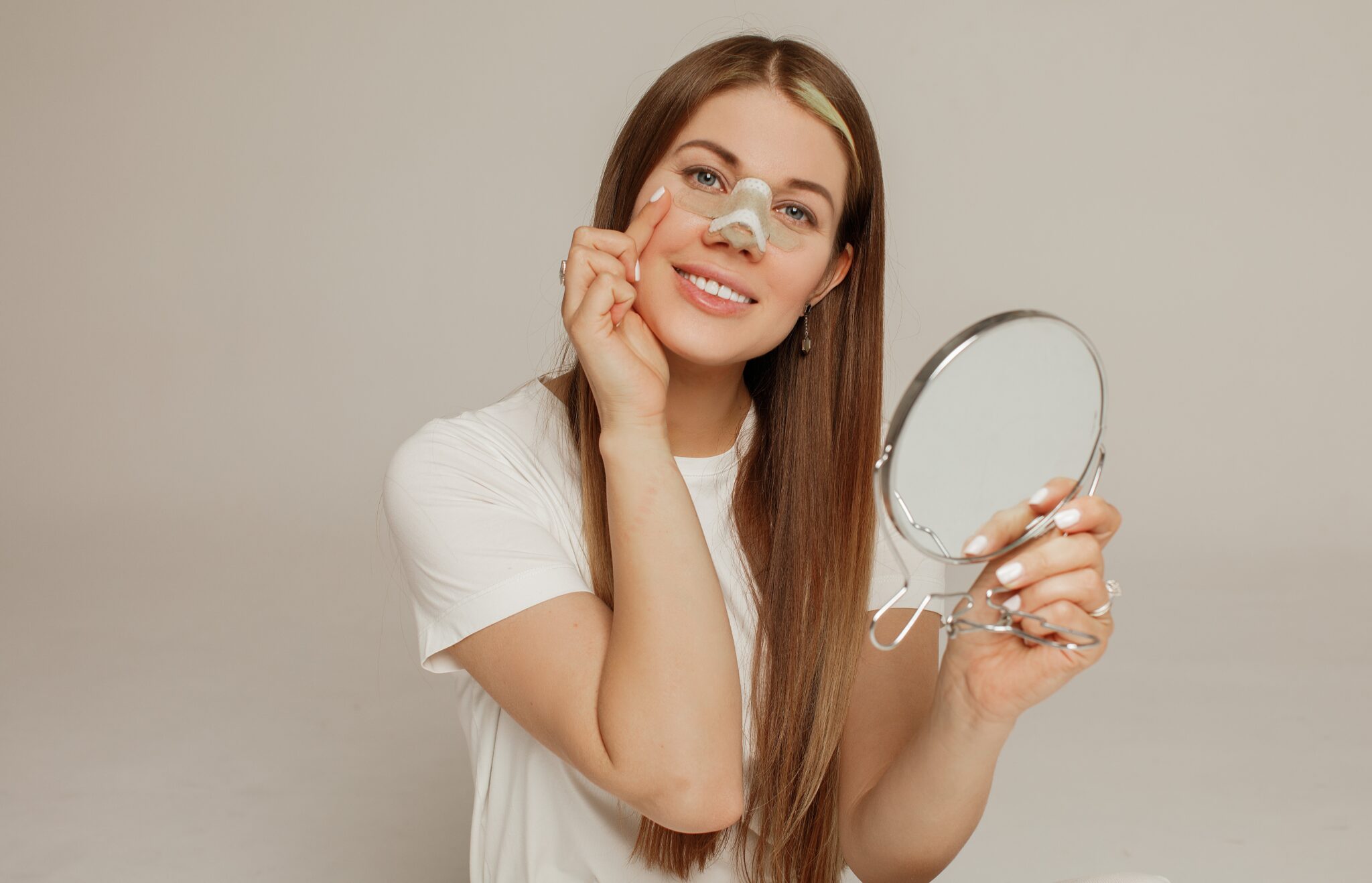 The Significance of Rhinoplasty Scars
Scar tissue, visible or internal, naturally forms post-rhinoplasty. Skin type, surgical technique, medical history, and recovery time can impact scar tissue formation.
Revision surgeries, especially with cartilage grafts, may lead to excess scar tissue. However, advanced techniques and proper post-operative care can minimize visible scarring.
During the consultation, the plastic surgeon will discuss scar potential and provide personalized scar management plans, including recovery instructions and lifestyle adjustments.
Types of Rhinoplasty Scars (Open vs. Closed)
In an open rhinoplasty, the surgeon makes an external incision across the columella, providing a clear view of the nasal structure for a complex procedure like revision rhinoplasty. This method may result in a noticeable scar.
Conversely, a closed rhinoplasty involves internal incisions, leaving no visible scars but forming hidden scar tissue.
Factors That Influence Scar Formation
Several factors can significantly influence the formation and visibility of scars after a rhinoplasty procedure. The healing process, for instance, plays a central role in how a visible scar may develop post-surgery.
The patient's age, skin type, and overall health can affect the speed and efficiency of the healing process. Younger skin, for instance, tends to heal faster and more completely than older skin, reducing the risk of noticeable scar tissue formation.
Preparing for Rhinoplasty Scar Management
Proper preparation before your rhinoplasty can help minimize the risk of visible scarring. During your consultation, your surgeon should discuss scar management options and provide pre-operative care instructions. These may include advice on diet, medication, and other lifestyle factors that can influence healing and scar formation.
Discussing Scar Management Options During the Consultation
Having a rhinoplasty consultation with a board-certified plastic surgeon is vital. The conversation should include scar management – it will help you set realistic goals and outline the pre-operative steps to reduce scar tissue risk. Your surgeon will consider your skin type, medical history, and aesthetic goals to suggest the best surgical technique, such as a less visibly scarring closed rhinoplasty or an open rhinoplasty for extensive nasal structure reshaping, which may leave a more noticeable scar.
Pre-Operative Care to Minimize Scar Risk
Before your rhinoplasty surgery, understanding pre-operative care will help minimize noticeable scars. In the lead-up to your surgery, it's important to maintain a healthy lifestyle. Good nutrition, adequate hydration, and avoiding harmful habits such as smoking can all contribute to better healing and less noticeable scarring post-surgery. You will be provided with detailed instructions along with a list of medications and supplements to stop taking temporarily in order to support healing and reduce scar risk.
Tips for Minimizing Rhinoplasty Scars
Proper care of the incision site is important during the immediate post-operative period. Your surgeon will provide you with detailed instructions on wound care, and patients might be given additional instructions that are specific to their situation.
Proper Wound Care in the Immediate Post-Op Period
Post-rhinoplasty, proper wound care is crucial for successful healing and minimal scar tissue formation. Your plastic surgeon will provide recovery instructions, including keeping the surgical site clean to avoid infection and additional scarring.
This involves gentle cleaning with a prescribed solution, applying ointments, and regular dressing changes. Avoid activities that strain blood vessels and raise blood pressure, like heavy lifting, to prevent disrupting the healing process and increasing scar tissue risk.
Scar-Friendly Diet and Lifestyle Adjustments
A scar-friendly diet and lifestyle adjustments can significantly influence the healing process and the formation of scar tissue after rhinoplasty surgery.
Maintaining a balanced diet rich in proteins, vitamins, and minerals aids wound healing and minimizes scar tissue formation. Consuming vitamin C-rich foods boosts collagen production, which is necessary for healing.
Avoiding smoking and excessive alcohol is vital as they can constrict blood vessels, reduce blood supply to nasal tissues, delay healing, increase blood pressure, and increase the risk of bleeding – leading to additional scarring.
The Importance of Sun Protection
Sun exposure can darken and highlight rhinoplasty scars due to UV rays stimulating melanin production in new scar tissue, causing hyperpigmentation. To lessen scar visibility, avoid direct sunlight, particularly at peak times, apply high-SPF sunscreen to protect the nose and facial skin, and consider wearing a wide-brimmed hat for extra protection.
Scar Massage Techniques
Scar massage techniques involve applying gentle pressure and using circular motions to massage the scar tissue. This action helps to break down excess scar tissue, improve blood supply to the area, and promote the healing process. Over time, this can lead to a less noticeable scar and improved nasal structure.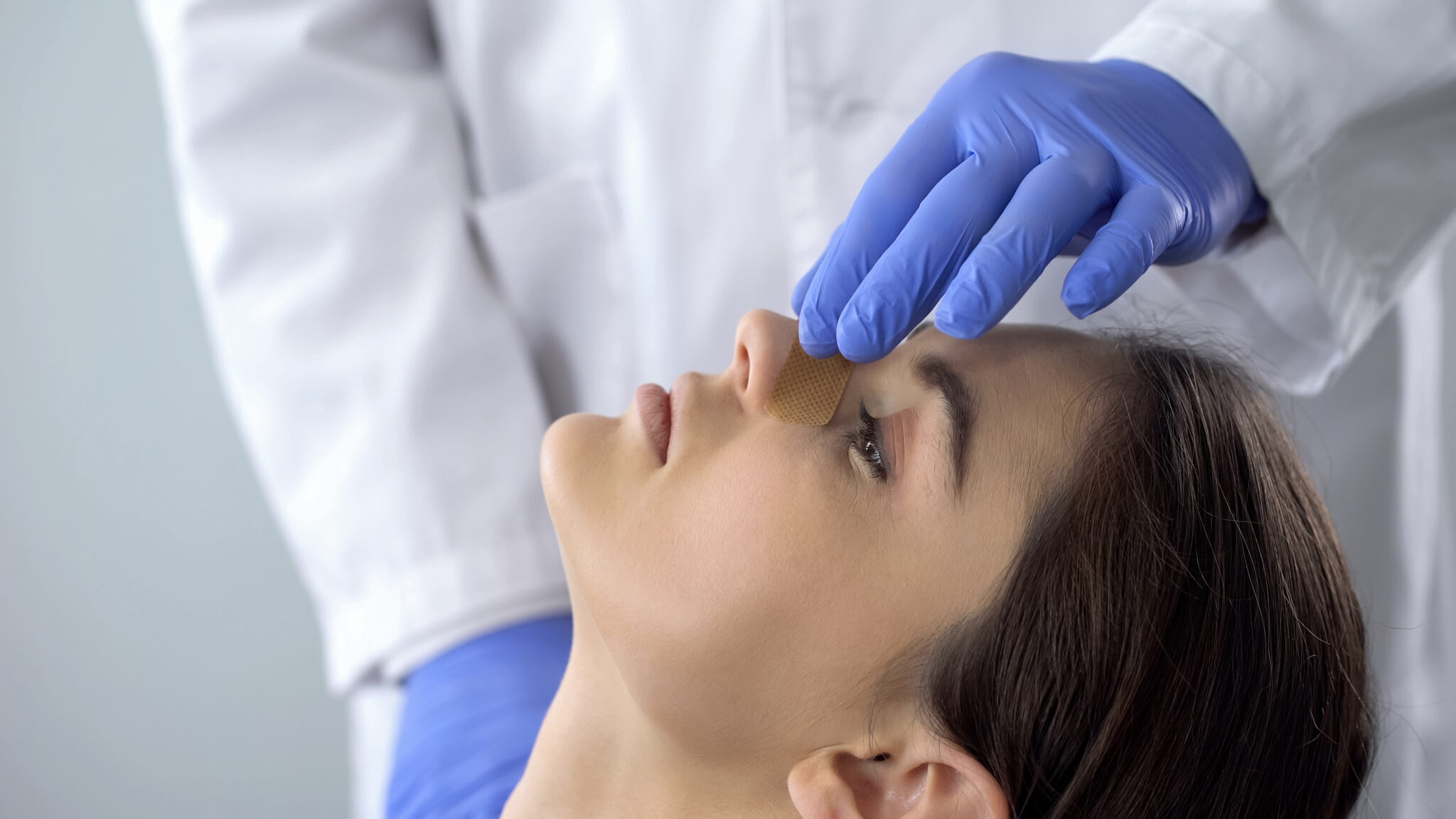 Scar Reduction Products and Treatments
Numerous products and treatments are available to help reduce the appearance of rhinoplasty scars.
Over-the-counter Scar Creams and Gels
However, there are numerous over-the-counter scar creams and gels available that can aid in managing your nose job scars. These products often contain ingredients like silicone or onion extract, which have been shown to aid in scar reduction. They work by softening and flattening the scar tissue to reduce the appearance of visible scarring.
Prescription Options for Scar Management
One common prescription treatment is retinoid creams. These creams work by promoting cell turnover, which can help to reduce the appearance of scar tissue over time. They are particularly effective for managing visible scarring that occurs when scar tissue forms in excess after rhinoplasty surgery. However, retinoid creams can cause skin irritation and should be used under the guidance of a medical professional.
Non-invasive Scar Treatments Like Laser Therapy
Laser therapy works by targeting the scar tissue that forms after the rhinoplasty procedure. The laser's energy stimulates the body's natural response, promoting the production of collagen, a protein essential for skin strength and elasticity. This scar revision option can help reduce redness, improve texture, and ultimately aid in the healing process, making the scar less noticeable over time.
Long-Term Scar Care
Long-term rhinoplasty scar care involves sun protection, a healthy lifestyle, and surgeon-recommended scar reduction products. Changes in scar color, texture, and size are normal during healing. Contact your surgeon for sudden changes or concerns.
Consult with a Qualified Surgeon for Personalized Advice
Schedule a consultation with a qualified surgeon like Dr. Agarwal, Dr. Maloney, or Dr. Holmes to manage and minimize rhinoplasty scars. They can provide personalized advice, wound care instructions, scar reduction product recommendations, and lifestyle adjustment guidance to aid the healing process.
Healing varies among individuals, so maintaining open communication with your surgeon is essential to ensure optimal care and outcomes from your rhinoplasty procedure.