Having well-shaped and contoured thighs is an aesthetic goal for many people, especially when it comes to wearing shorts or skirts. But concerns such as excess fat, cellulite, and sagging skin can often get in the way of this dream.
Luckily, there are ways to conquer these issues, with one notable solution being thigh lift surgery. With different types of thigh lifts, such as a mini thigh lift, medial thigh lift, bilateral thigh lift, and others, it's possible to reshape your thighs for smoother skin and better contour. This article aims to give you a comprehensive understanding of these variations, their uses, and the relevant processes involved.
What Factors Contribute to Sagging Skin on the Thighs?
Have you ever wondered what's behind the sagging skin on your upper thighs? Well, there are several culprits. The most common is the natural aging process. As we age, our skin loses its elasticity and firmness, leading to a saggy appearance. Moreover, genetics plays a role; some individuals might be predisposed to have less elastic skin or store fatty tissue in certain areas like the thighs.
Another significant factor is dramatic weight loss. While shedding those extra pounds is a commendable achievement, it can sometimes leave behind extra skin, especially if the weight loss is rapid. Achieving your ideal body weight is a cause for celebration, but sometimes the body needs a bit of assistance in contouring and reshaping, which is where a surgical procedure like a thigh lift comes into play.
Types of Thigh Lifts
When considering a thigh lift procedure, the first thing to understand is that there are different types available depending on your specific needs and conditions.
1. Medial Thigh Lift
The Medial Thigh Lift is one of the common types of thigh lift techniques, focusing on the inner or medial section of the thigh. Ideal for those who've reached their ideal weight but still struggle with sagging or excess weight in the inner thigh region, this procedure involves making an incision in the natural crease of the groin. By targeting this specific area, the outcome promises a more contoured appearance and minimal scarring since the incision is concealed within the body's natural crease.
2. Bilateral Thigh Lift
For those desiring a transformative cosmetic surgery that addresses sagging in the front and outer sections of the upper leg, the Bilateral Thigh Lift is an excellent choice. Incisions are strategically made at the top of the thigh, typically where the edge of bikini briefs might lie. This procedure not only offers a more toned look but also complements other body contouring techniques for a holistic aesthetic transformation.
3. Mini Thigh Lift
The Mini Thigh Lift is designed for individuals who are close to their ideal weight but need a bit of refinement in the upper portion of the inner thigh. Being one of the less invasive thigh lift techniques, this procedure involves a smaller incision, typically located within the groin's natural crease. The result? A subtle enhancement with minimal scarring, catering to those seeking a slight but impactful change.
4. Vertical Thigh Lift
For individuals looking for a comprehensive change, the Vertical Thigh Lift is an ideal cosmetic surgery. This procedure is extensive and targets stubborn fat deposits and loose skin along the entire inner thigh region. A vertical incision, which extends from the groin down to the knee, is made, allowing surgeons to reshape and redefine the thigh area for a more contoured and sleek look. While scarring is more evident than other procedures, the transformative results often outweigh this concern.
5. Spiral Thigh Lift
This is a holistic approach, especially favored by those who've lost significant excess weight and seek a complete thigh transformation. This procedure addresses the front, back, inner, and even outer thighs, resulting in an all-encompassing sculpted effect. An outer thigh lift is incorporated into this procedure, ensuring a uniform contoured appearance. Like all surgical interventions, it's crucial to understand the risks of thigh lift surgeries, but with a skilled surgeon, the results can be life-changing.
Remember, while thigh lifts offer a myriad of benefits, it's vital to approach them with a well-informed mindset and under the guidance of a certified professional.
How to Determine the Right Type of Thigh Lift
Choosing the right thigh lift is more than just a cosmetic decision; it's a journey toward achieving your desired aesthetic goals. The process, when done right, ensures satisfaction, minimal complications, and results that not only enhance appearance but also boost confidence. Here's how to go about it:
Consult with a Surgeon
Your first step should always be consulting with a certified plastic surgeon. They have the knowledge, expertise, and experience to guide you through the nuances of different thigh lift techniques. Their objective evaluation of your body, understanding of your medical history, and deep-dive into your aesthetic aspirations ensure you get a tailor-made solution.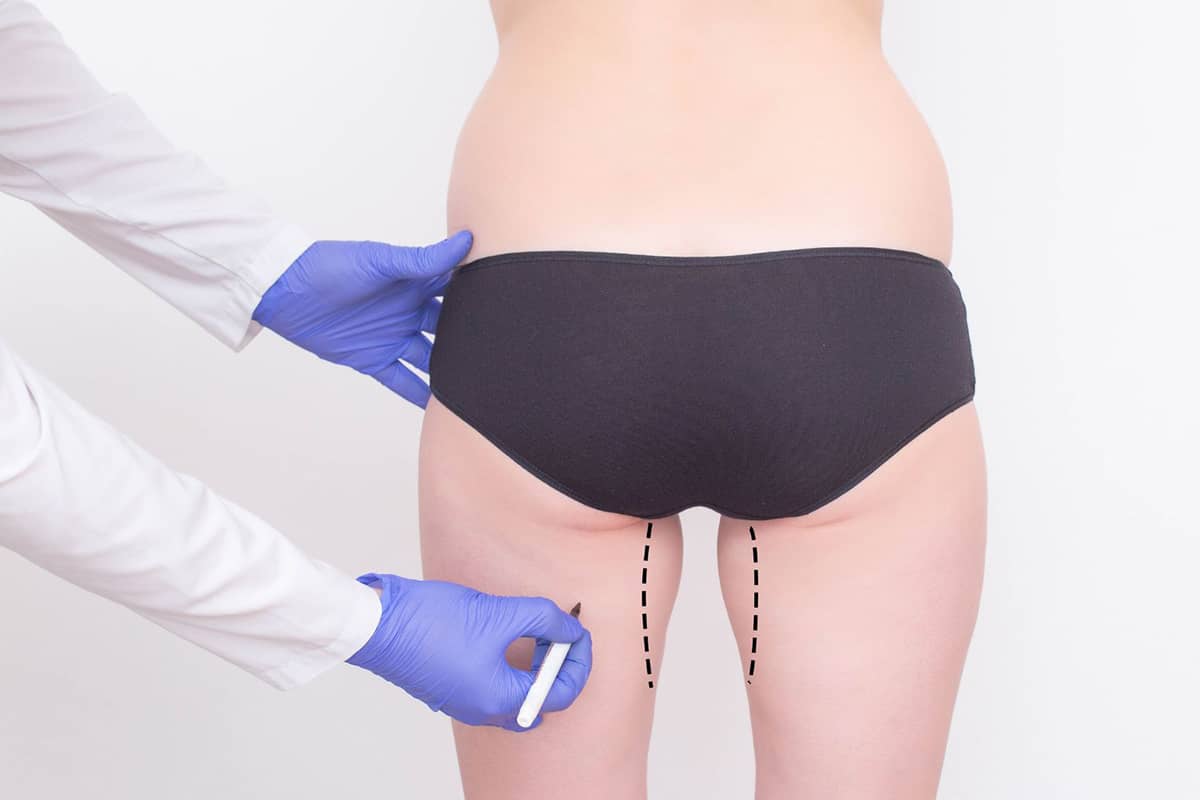 Physical Assessment
A comprehensive physical assessment forms the foundation for deciding on the perfect thigh lift. Here, the surgeon will meticulously examine your skin elasticity, quantify the amount of excess skin, and evaluate the presence of cellulite or fat deposits on your thighs. Factors like whether you're at your ideal weight or if there's more weight to lose can play a role in the recommendation. For instance, someone who's lost a significant amount of weight might need a different approach compared to someone closer to their ideal weight but wants to get rid of stubborn fat or sagging skin.
Incisions and Scarring
Incisions are integral to any cosmetic surgery, and thigh lifts are no exception. It's crucial to have a transparent dialogue with your surgeon regarding the size, location, and potential outcome of incisions. Different thigh lift techniques will require various incision types. For example, a vertical incision might offer extensive reshaping opportunities but could also result in more visible scarring. Conversely, an incision in a natural crease might offer minimal scarring but may be limited in its sculpting capacity.
Health Check
Prior to the procedure, it's imperative to undergo a complete medical check-up. This ensures you're in optimal health, minimizing potential complications during and post-surgery. If there are underlying health issues or potential risk factors, they need to be addressed and managed. A thorough assessment of your health is not only about ensuring the success of the surgery but also about guaranteeing your overall well-being and safety.
Conclusion
Thigh lift procedures are a popular choice for those looking to achieve smoother, firmer thighs, and they come in different types to cater to every patient's unique needs. Whether it's shedding excess skin after massive weight loss, reducing ugly cellulite, or merely enhancing your overall silhouette, these techniques can offer the transformation you've been dreaming of. Remember, it's crucial to consult with a specialist like Dr. Casey Holmes to decide on your procedure carefully.