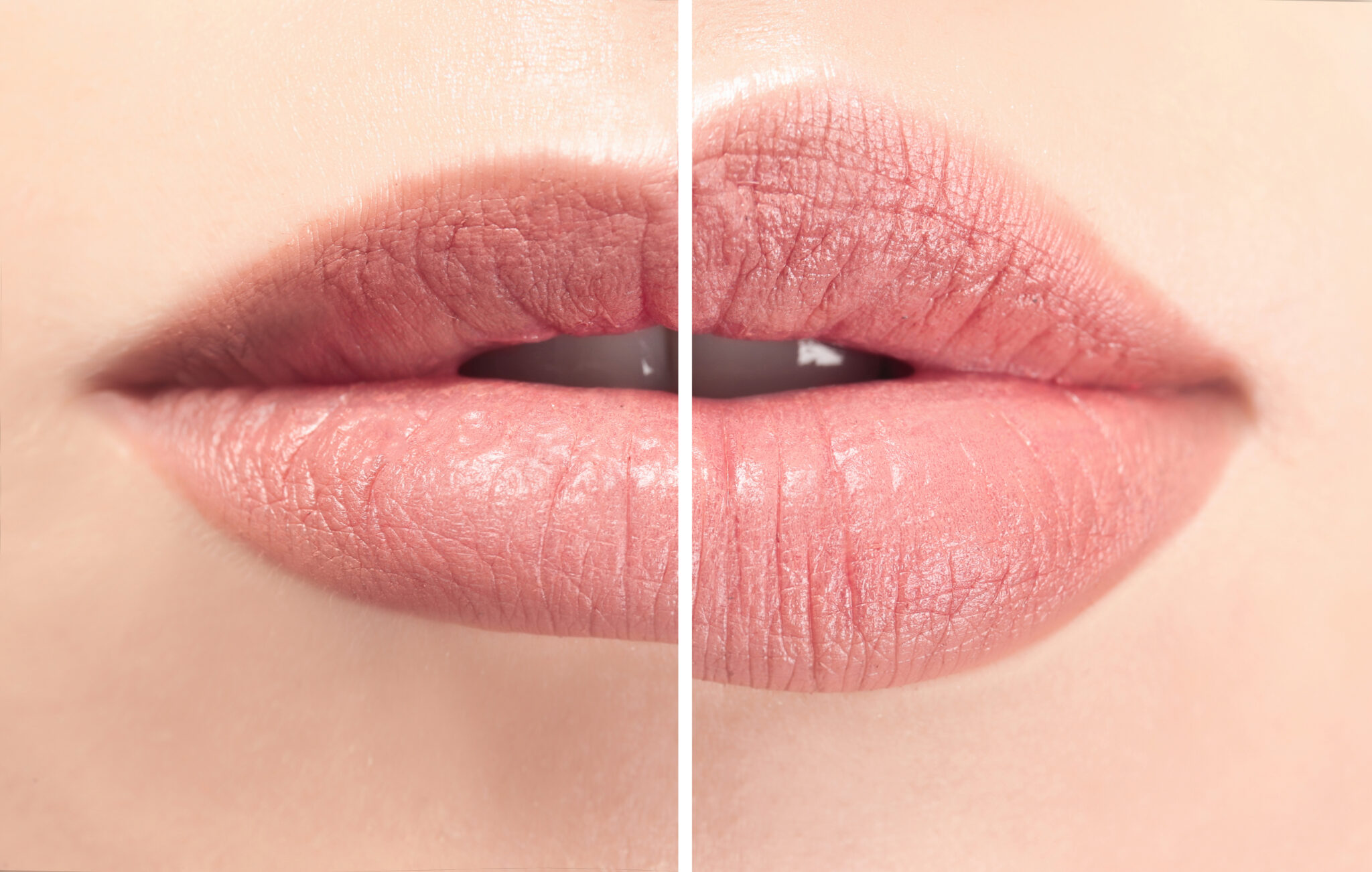 Lip augmentation is a minimally invasive cosmetic procedure that enhances the appearance of the lips to create a fuller, more youthful smile. Despite the procedure's growing popularity, there are still a lot of misconceptions about it. This post aims to debunk some of the most common myths about lip augmentation.
What is Lip Augmentation?
Lip augmentation, is a highly sought-after cosmetic procedure, with both surgical and non-surgical options, designed to enhance the fullness and symmetry of the lips, providing a more youthful and appealing appearance.
This procedure is often pursued by individuals looking to boost their self-confidence, reverse signs of aging such as volume loss and the formation of vertical lip wrinkles, and achieve a more balanced facial aesthetic.
Non-surgical lip augmentation is typically performed using injectable dermal fillers, including FDA-approved lip filler brands such as Restylane and Juvederm.
These modern lip fillers, often hyaluronic acid-based dermal filler brands, are designed to mimic the body's natural substances, ensuring a smooth and natural-looking outcome.
The procedure is safe, effective, and requires no downtime, making it a convenient option for those with busy lifestyles. Lip enhancement effects are durable, often lasting 6 months to a year or more, based on variables like the filler type, metabolism, and lifestyle.
Common Misconceptions about Lip Augmentation
Despite the benefits and popularity of lip augmentation, several misconceptions persist. These myths can deter individuals from considering the procedure despite its potential to enhance their aesthetic appeal and confidence. It's essential to separate fact from fiction when considering any cosmetic procedure, including lip augmentation.
Myth 1: Lip Fillers Last Forever
The idea that lip fillers are permanent is a typical misconception. This is not the case.
The Truth Behind the Myth
The idea that lip fillers are a one-time procedure that lasts forever is a frequent misperception about them. This is a false myth that needs to be addressed. How long lip fillers last depends on the specific filler injected and the individual's metabolism that breaks it down.
How Long Do Injectable Fillers Last?
Typically, the results from injectable dermal filler treatments can last anywhere from 6 months to 18 months. This varies based on the specific product used and individual factors such as lifestyle and metabolism rate. For your desired volume to be maintained, you might require regular touch-up procedures.
Myth 2: All Injectable Fillers are the Same
One further widespread misconception is that all injectable fillers are the same. This is far from the truth.
Differences Between Acid and Hyaluronic Acid Fillers
When it comes to lip augmentation, the type of filler used plays a significant role in the outcome of the procedure.
Acid fillers and hyaluronic acid-based fillers are two common types of injectable dermal fillers used in lip augmentation. However, they differ in several ways.
Acid fillers, such as calcium hydroxylapatite fillers, are often used to treat skin conditions like skin laxity and lopsided skin surface. They work by stimulating collagen production in the skin cells, which helps to restore volume and smooth out wrinkles. However, acid fillers can sometimes lead to an uneven texture in the lips, which is why they are not commonly used for lip enhancement.
On the other hand, hyaluronic acid-based fillers are the preferred choice. These modern lip fillers are designed to mimic the hyaluronic acid naturally found in our bodies. They provide a smooth, natural-looking result and are less likely to cause an allergic reaction.
Benefits of Hyaluronic Acid Filler for the Lips
A major advantage of hyaluronic acid fillers is that they can promote the skin's natural collagen production. This collagen synthesis not only enhances the fullness of the lips but also improves skin laxity, reducing the appearance of smile lines and horizontal forehead lines.
Hyaluronic acid-based dermal filler brands are known for their ability to retain moisture, which can help hydrate the lips and give them a youthful, healthy appearance.
Hyaluronic acid fillers also have the added benefit of being reversible. If a patient is unhappy with their results, a filler reversal treatment can be administered to dissolve the filler. This provides an additional layer of safety and peace of mind for patients considering lip filler treatments. They also have a lower risk of allergic reactions than other fillers.
Myth 3: Anyone Can Administer Lip Injections
The belief that anyone can administer lip injections is a dangerous myth. Lip fillers should only ever be administered by licensed and registered professionals. Safety and hygiene ought to come first in all medical procedures. You must have confidence and trust in both the surgeon and the substance they are using to inject your lips.
Visiting Dr. Agarwal, Dr. Maloney, and Dr. Holmes
For safe and effective lip augmentation, it's crucial to visit qualified, experienced, and board-certified surgeons like Dr. Agarwal, Dr. Maloney, and Dr. Holmes at the Aesthetic Surgery Center in Naples, Florida. He has extensive experience in lip enhancement and uses his expertise to ensure optimal results for each individual.
Myth 4: Injectable Fillers Will Make You Look "Overdone" or "Unnatural"
A common fear is that lip augmentation will result in an exaggerated or unnatural appearance. This is not necessarily the case.
Customizing Results to Meet Your Aesthetic Goals
The success of lip augmentation relies heavily on the skill of the doctor performing it and the patient's desired look. Skilled surgeons like Dr. Agarwal, Dr. Maloney, or Dr. Holmes can customize the procedure to meet your aesthetic goals, ensuring that your results complement your facial features.
Working With Dr. Agarwal, Dr. Maloney, and Dr. Holmes to Achieve Natural-Looking Results
Dr. Agarwal, Dr. Maloney, and Dr. Holmes are dedicated to providing results that enhance your natural beauty. By taking into account your unique facial structure and personal aesthetic goals, they can provide you with lip augmentation results that are subtle, natural-looking, and beautiful.
Their extensive knowledge and expertise in the field of cosmetic enhancements, including lip enhancement procedures, make them a trusted choice for those seeking to improve their aesthetic appeal. They can guide you through the process, ensuring you achieve the desired results while minimizing any potential risks. Dr. Agarwal, Dr. Maloney, and Dr. Holmes are also experienced in administering lip filler injections, ensuring that the procedure is performed safely and effectively.
Myth 5: Allergic Reactions are Common After Lip Augmentations
Another myth is that allergic reactions are common after lip augmentations. While it is true that allergic reactions can occur, they are extremely rare, especially when the procedure is performed by a skilled and experienced practitioner using high-quality products. Hyaluronic acid fillers, for example, are made from substances similar to those found in the body, reducing the risk of an allergic reaction.