Requests for non-surgical rhinoplasty, or a "non-surgical nose job," have increased dramatically in the past couple of years. Non-surgical nose jobs, also known as filler rhinoplasty or injection rhinoplasty, are a less invasive and temporary method of improving the shape of your nose. This procedure is a viable alternative to traditional surgical rhinoplasty that was, until recently, the only option to alter the appearance of a patient's nose.
At Aesthetic Surgery Center, we perform both non-surgical and traditional rhinoplasty methods and acknowledge that there are pros and cons for both. If you are considering a nose job, keep reading to learn the potential benefits and risks of both procedures so you can better decide which is right for you.
What is Non-Surgical Rhinoplasty?
Non-surgical rhinoplasty is a term given to using injectable fillers such as Restylane, Juvederm, or Bellafill to change the shape of the nose. The many benefits of non-surgical rhinoplasty include a quicker recovery, a lower price tag, and the possibility of reversing the outcome.
Injectable fillers can camouflage a hump in the nose, fill indentations, lift the nasal tip, improve tip definition, lower retracted nostrils, augment a nose that is generally too small, and improve asymmetries in the nose. The procedure is performed in the office using a topical anesthetic cream, which takes effect after about 10-15 minutes. The actual nasal injections take about 10 minutes to perform.
The results are immediate and can be dramatic for some individuals. Mild swelling and bruising are both to be expected and usually only last a few days. Most fillers are temporary, which means the procedure needs to be repeated in the future, roughly twice a year, but this depends on how quickly an individual resorbs the product. If you don't like the aesthetic result, hyaluronic acid fillers such as Restylane and Juvederm dissolve with hyaluronidase, an injectable dissolving enzyme.
Non-surgical rhinoplasty risks include:
Scar tissue formation from filler
Bruising
Swelling
Filler migration
Vascular complications (blockage of blood vessels)
Blindness (rare)
Skin necrosis, or tissue death (rare)
Non-surgical nose jobs are primarily cosmetic procedures meant to tweak the shape and appearance of the nose. The temporary results and subtle changes of non-surgical nose jobs make them ideal for those with a droopy tip, asymmetric nose shape, and small nasal bumps.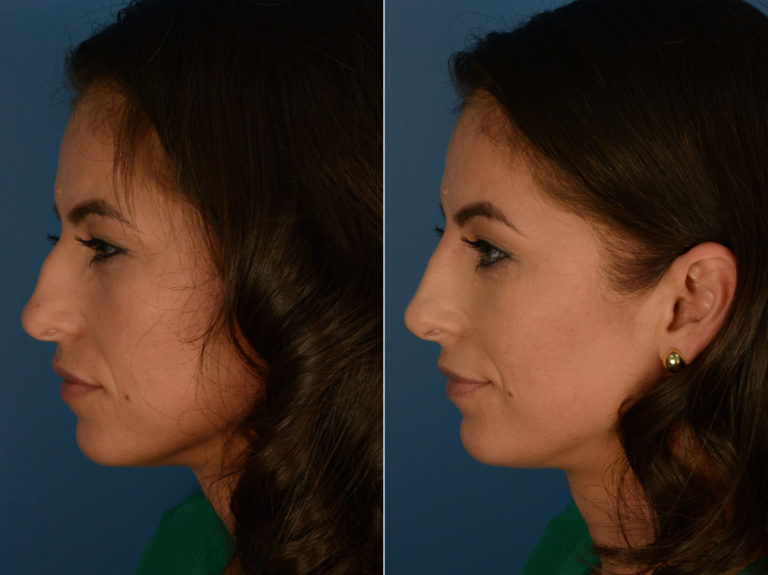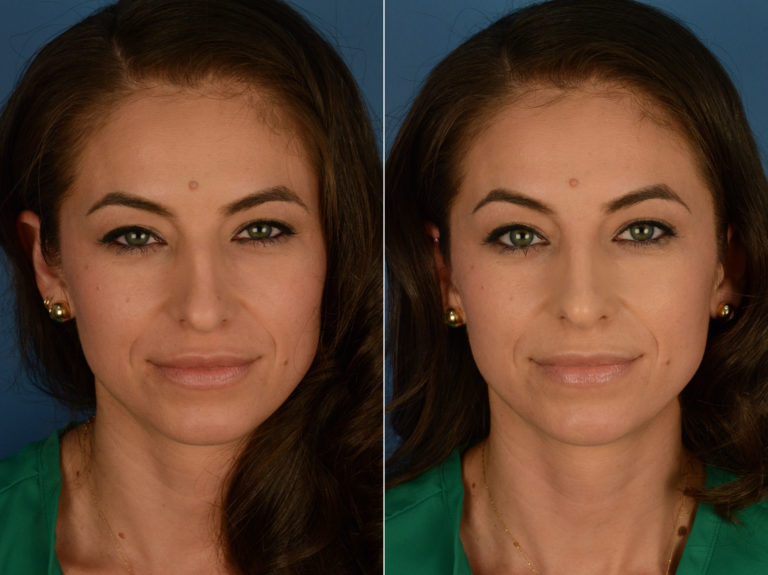 What is Surgical Rhinoplasty?
Surgical rhinoplasty naples fl has been a popular procedure for over half a century. This rewarding operation allows the surgeon to perform a more dramatic nose job than can be done with injectable fillers. 
Injectable filler can camouflage a large hump, but the complete reduction of the hump can only be accomplished with the surgical removal of tissue. Nostrils can be reduced in size surgically, but not with injectables. Any significant crookedness can be addressed more comprehensively in the operating room.
Traditional nose job naples risks include: 
Numbness or pain
Infection
Trouble breathing
Adverse reactions to anesthetic
Nasal septal perforation (a hole in the nasal septum)
Poor healing or scarring
Discoloration and swelling
Unsatisfactory nasal appearance
Traditional rhinoplasty naples is more than a cosmetic procedure. It can be used to correct breathing issues and completely reshape the nose. However, surgical rhinoplasty requires anesthesia, downtime of 1-2 weeks initially, and the possible need for revision surgery. A traditional nose job is best for those looking for long-term results and is willing to deal with a longer recovery and more intensive surgical procedure. 
Non-Surgical Versus Surgical Rhinoplasty
For people who only want subtle changes and are willing to undergo brief treatments about twice per year, a non-surgical filler rhinoplasty is a great option. It allows the patient to experiment with modifications to their nose with minimal risk and the ability to reverse the changes if necessary.
For those looking for a dramatic change and long-lasting results, however, surgical rhinoplasty naples florida is the ideal solution. Traditional surgical rhinoplasty allows the surgeon to address more cosmetic and functional issues with less maintenance and great results. 
Sometimes, a surgeon may suggest both procedures since they complement each other well. Non-surgical rhinoplasty can improve any imperfections from a surgical nose job. It can also show you what your nose might look like after a more permanent surgical procedure. 
However, if you do intend to eventually opt for traditional rhinoplasty, you must wait until all the filler has dissolved before scheduling surgery so that all surgical maneuvers and decisions can be made with the nose in its natural state.
Which Procedure is Right for You?
A classic surgical rhinoplasty is a more dramatic procedure but can completely alter the shape of the nose and cure medical issues related to the nasal passage. Non-surgical rhinoplasty is a subtle first step for patients with smaller reconstruction requests or those who may be hesitant to proceed with a surgical nose job naples fl. 
Ultimately, you need to decide which procedure you would rather invest in as you will ultimately live with the results. For an individualized recommendation, please call Aesthetic Surgery Center at 239-594-9100 to schedule a consultation in Naples, FL, with one of best rhinoplasty surgeon in florida.